For the third time in a row we travelled with a group all the way to Patagonia for some world class sea trout fishing on the Rio Gallegos. Sven, Eckhardt and Toni joined us again as well as Willi who experienced Patagonia for the first time. As always we had a very smooth journey to Buenos Aires with a long international flight from Frankfurt. We had one day layover in Buenos Aires to relax a little bit and enjoy our tradition when visiting our restaurant in the area for the first of many Argentinian steaks - always a good way to start a trip. Next morning was an early one to catch our domestic flight to Rio Gallegos where Head Guide Carlos already welcomed us. We heard that water conditions where good at the moment and the strong wind from last week did slow down luckily. Due to a changed flight schedule we had the whole Saturday to prepare our tackle which was ready shortly after we arrived and just after a short lunch snack at the lodge all of us went to the river for a little warm up session. This session already brought a couple of fish for the group, just right to get into sea trout mode. In the evening it was time for a welcome dinner at the lodge, steak and Malbec was on the menu and boy this wine is always so good. This year we had the pleasure of meeting a mixed group with Per and Roland from Sweden, Tommy from Iceland as well as Cristian and Titus from Romania. The group was hosted by Thomas from Sweden.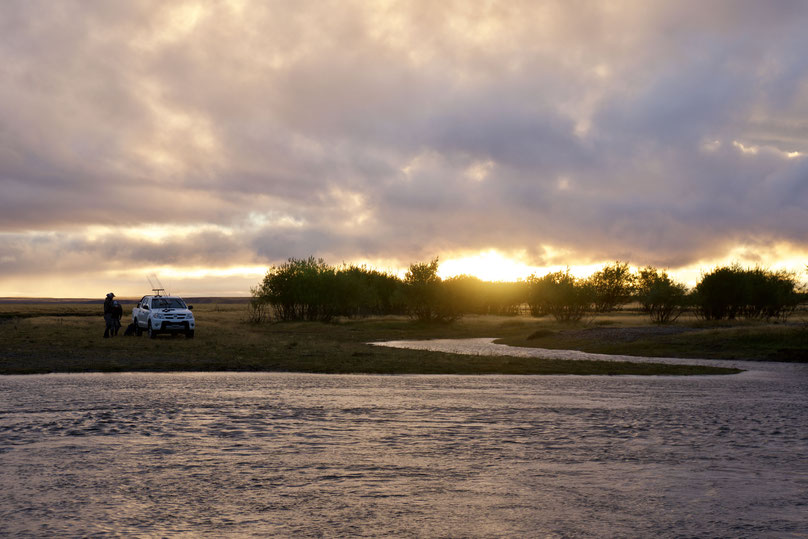 We again picked a week during the end of the season at Las Buitreras and therefore no need to get up very early in the mornings. Our day started around 9:00 am and had a longer break for lunch with a short siesta afterwards. Then back to the river with new energy to fish way into darkness. Especially the last daylight offers a very good chance of hooking into fish when they get active again. We did catch fish the whole day but it is for sure the magic hour just before darkness. Late season means also slightly colder weather and water, therefore you usually fish smaller flies.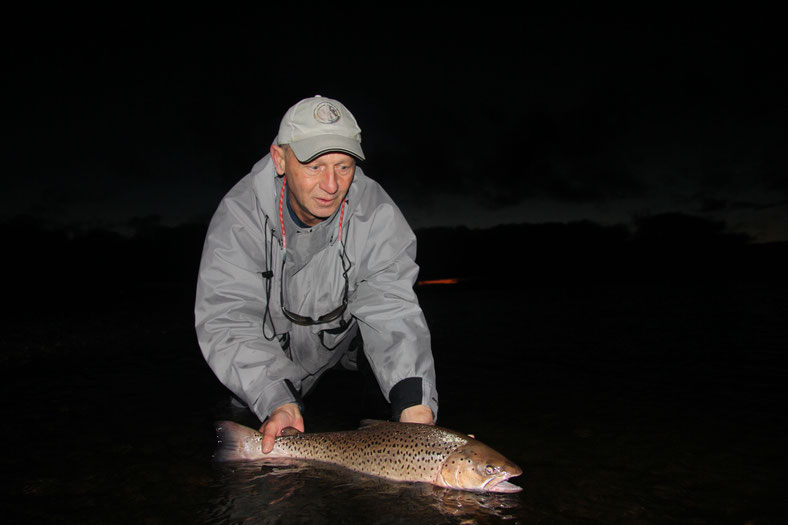 This year it was different. The Rio Gallegos had more water than the last years but still was very clear the first three days so we did fish nymphs such as Cooper Johns, EMBs, Prince Nymphs, etc. In the evenings this is a completely new game as this is the time for the big guys - sunray shadows, leeches, big tube flies - you name it. The middle of the week brought heavy rain, especially in the mountains, which pushed more water down the river and everybody knows what this means, yes, excellent conditions for new fish to get into the river and consequently more active fish in general. People often forget that the Rio Gallegos still has a strong run of fresh fish at the end of the season which makes this place so interesting from January all the way into April.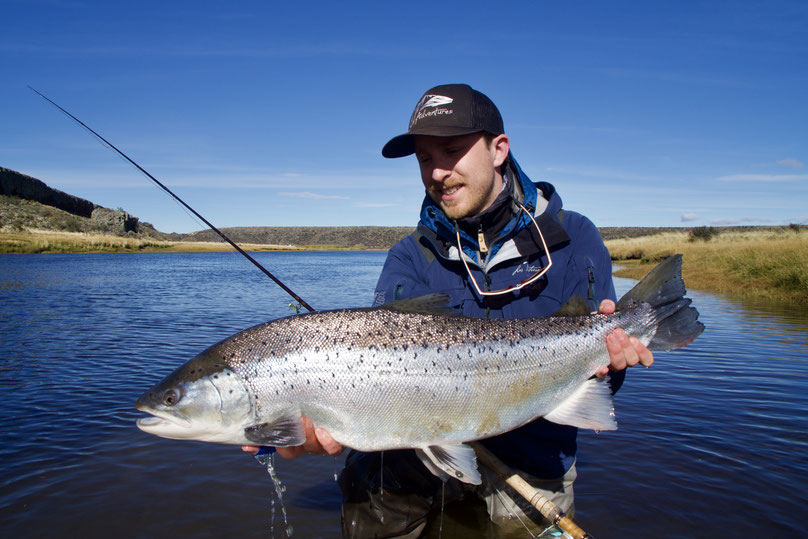 After the first three days with good fishing we had to adapt to the higher water with bigger streamers and slow sinking Polyleaders. Weather remained stable during the last days and everybody could land a good number of sea trouts. The fishing was great during our week with ideal water conditions and a lot of fish in the system. With over 70 sea trouts landed (11 anglers) this was also the best week for us so far on the Gallegos. Thomas from Sweden landed the biggest fish of the week, an amazing chromer of 20 lb, and there was a good number of sea trouts between 14 and 18 lb as well as a high number of smaller fish. Fishing the Rio Gallegos is always very special, definitely challenging but this is what makes it also so exciting when hooking into a nice fish. The key is often not a very long cast or THE special fly, it is more about how you fish your fly. You always need to have direct contact to your fly, give it a few seconds to reach the right depth and then move the fly. The bite is strong and a quick as well as firm hook set is necessary to experience one of the nicest fights when fishing for anadromous species. Big thanks also to our Guides (Carlos, Charly, Gabriel and Loro) who again did everything to get all of us into fish after a long season, if you listen to your guide you will be successful. Combined with great hospitality from Agustina and the team there was nothing missing - thank you guys! Ah and btw, if you come to Las Buitreras expect to gain 2-3 kilo extra weight - the food is plentiful! Fishing the Gallegos is already an addiction for me personally and I can´t wait to get back.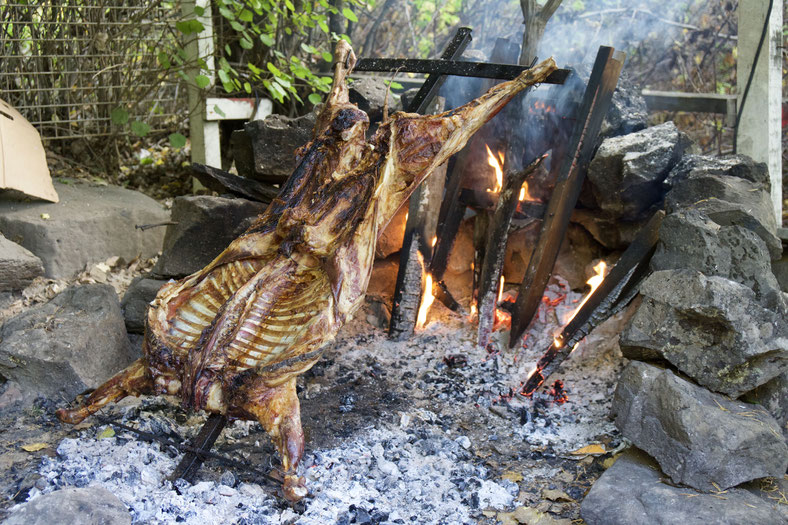 On Saturday we had to say goodbye to Toni, Eckhardt and Willi who made their way home to Frankfurt. Sven and myself stayed for a week of steelhead fishing on the Santa Cruz river. This place already got us during the last trip and we really wanted to fish it for a whole week. On the way to the lodge we picked up Alex who finally arrived after a three-day trip from Singapore. Furthermore, Doug from England and Taft from the US were with us for this week at Los Plateados Lodge. Unfortunately, Claudio (Tres Amigos Outfitters) forwarded us some bad news as the river was very high after a glacier broke on the Lago Argentino 2-3 weeks before. Luckily the lodge didn´t suffer from the flood but the water was still more or less one meter above normal. Conditions weren´t good at all but we said that we will try hard and take the challenge.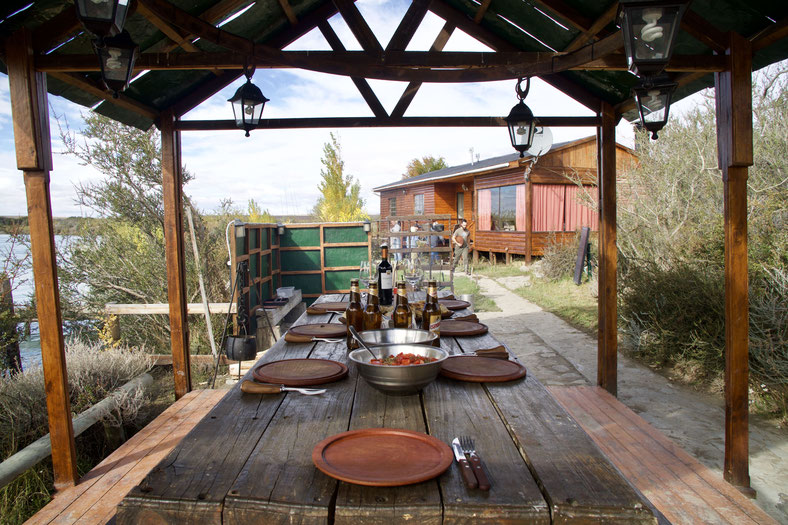 Fishing was tough as expected. We fished places where we waded last year and the current was still very strong in most of the runs. Claudio and Tomas developed the strategy to fish pools and runs with a more shallow character as the water still showed a high amount of glacier sediments which didn´t improve visibility. In these places the fish should have the best chance to see the fly when it would swing by - so far the theory. We worked hard every day with the hope to feel that tug of an atlantic steelhead.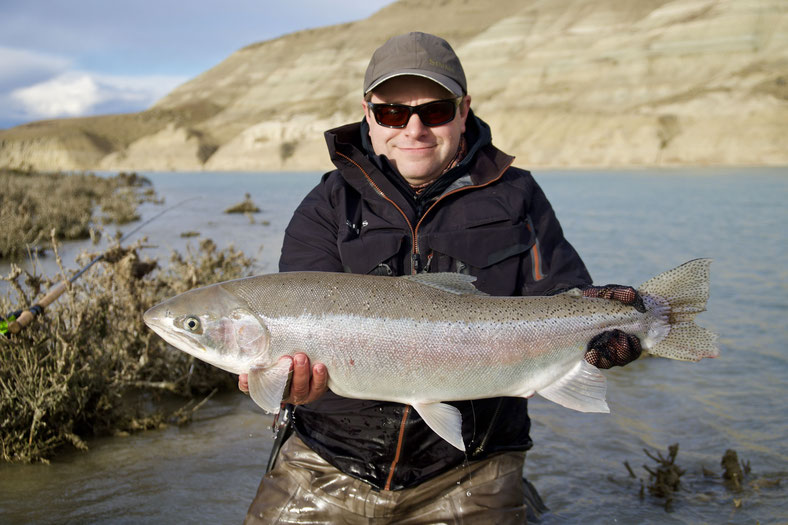 And we were successful. Directly on the first day I was lucky to hook into a nice fish, as expected not far a way from shore followed by a typical run only a steelhead can do - amazing! So we all knew it is possible we just needed a lot of patience and a bit of luck. On the third day it was Alex who could test his gear. Just in the last part of the famous Elephants pool he hooked into a steelhead that again was standing close to shore. After a few runs he could finally get the fish into shallow water when Claudio eventually could net the fish. Wasn't running so fast and long for a long time when he hooked the fish, I literally had to stop for a break in-between until I finally arrived and could take a couple of photos - might have been the wine from the last days or the three course lunch every day.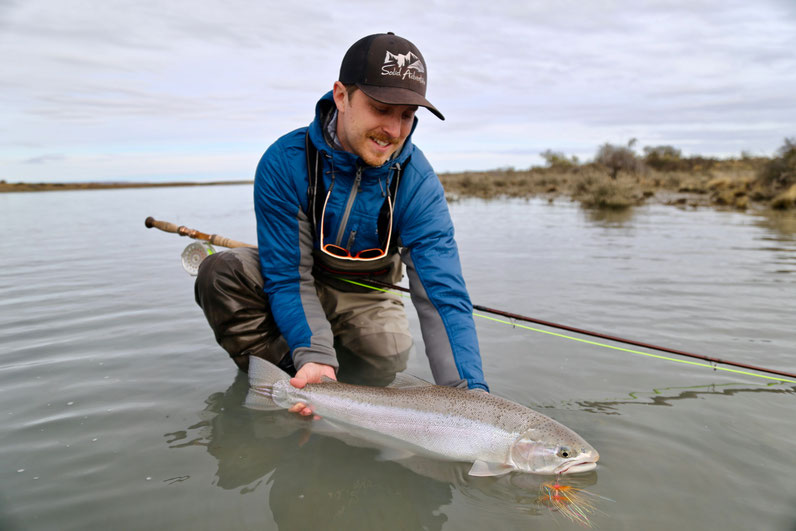 Until the last day there was no action anymore and we hoped for some activity during our last session on Friday. We tried every intruder in our box, all colors, every sink tip that was causing overweight baggage on the way to Argentina, unfortunately without success. The colour of the water didn´t improve even though the river was dropping slowly - still far away from normal.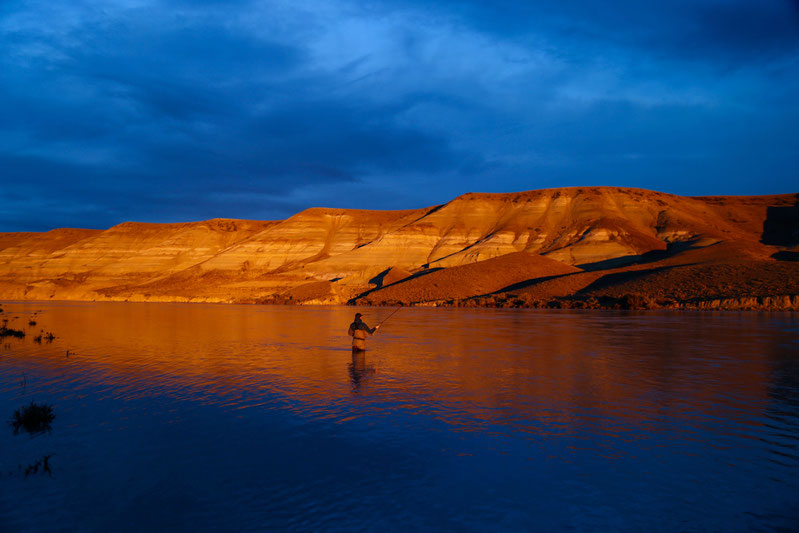 Then it was Friday and the last morning session was good to us. Alex could again land a beauty on the same spot he was successful a few days earlier and Taft was successful on the upper section of this run. Taft really deserved this fish after arriving at the lodge two days later without his luggage! In total we can say that the fishing was very tough, we knew that a lot of things have to come together to hook into fish. However, the Santa Cruz again proved to have an excellent steelhead fishery where it is possible to land fish even in more than bad conditions. You don´t see any other angler, it is you and the Santa Cruz - something you don´t find that often when fishing for steelhead nowadays. The steelhead run is strong and with normal water levels you can experience a unique steelhead fishery. We really like the lodge, it is more basic than Las Buitreras but perfectly fine for 4-5 anglers.
We had two great weeks in Argentina and I can highly recommend the combination Las Buitreras/Santa Cruz.
Thanks a lot to the whole group (Toni, Willi, Eckhardt, Sven and Alex), great time with you guys! Big thanks also to Solid Adventures, Tres Amigos Outfitters, Angelbär and to the staff on place.
Felix Hansvencl
Photos Santa Cruz (from Claudio Martin and Felix Hansvencl):