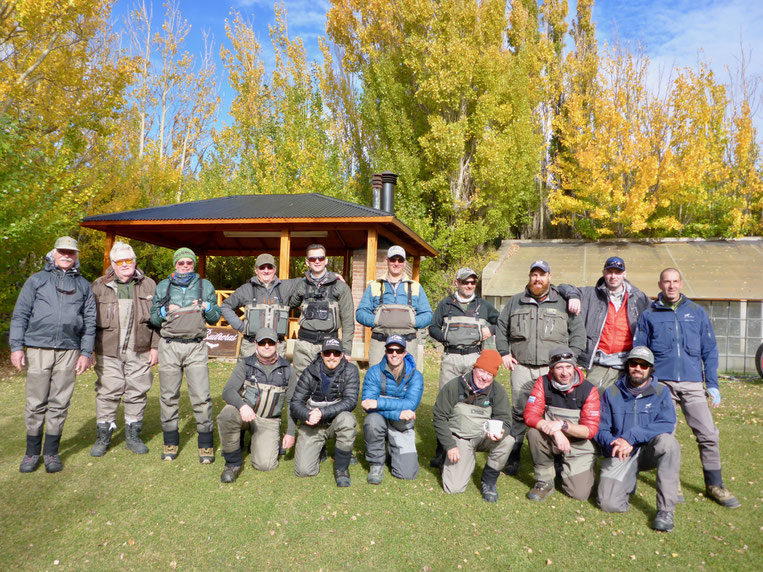 After our first hosted trip last year we quickly decided to return to this place chasing sea running browns in April and this year also followed by a couple of days fishing for the only Atlantic Steelhead run. This years group members were Sven, Toni and Eckhardt. Sven and Toni joined me already in 2016, Eckhardt was in Buitreras two years ago - this made preparations quite easy as all of them knew what to bring, we could improve a couple of tackle setups and were ready for take-off. After a stopover in Buenos Aires starting the trip (with a great dinner including 450 gr. steaks - so good) we arrived in Gallegos. Weather was milder than last year, water was again low and clear which made long leaders and nymphs the way to go for our week. Despite the challenging conditions the group was up for the game and worked hard every day with great support by our guides Rick, Carlos, Tomas, Charly and Juan Manuel. The fishing is very technical especially when you have low water so it is important to prevent a lot of splashing while casting and to be focused as soon as the fly lands on the water, a bite can follow right away. In Buitreras it is most of the time not about distance casting rather than about precision in order to place your fly right on the weed/cut bank and to cover water carefully.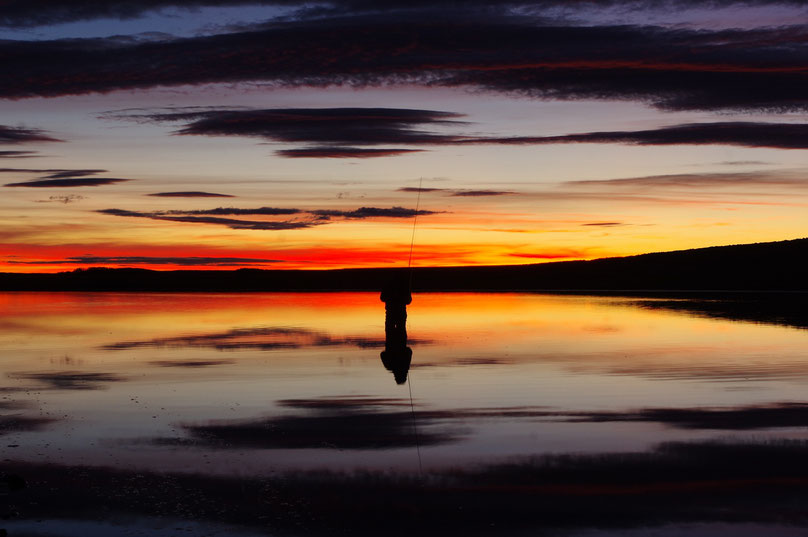 After our arrival we quickly jumped into our waders and hit the river. The first day produced a few fish for the group to get back into sea trout mode and ensured a smooth start. The daily schedule changed slightly in comparison to last year with a big lunch at the lodge to fill up the batteries for a longer evening session being able to fish into the dark. After fishing a smaller dinner with some snacks was served in the living area by the lodge staff who again took great care of all the guests. As always the evenings were used to exchange fishing stories, theories about success and failures during the day or even the behavior of the dangerous European hamster (caused by a lot of wine)! We had a fantastic group at the lodge with Tim, Jason, Chris, Nick and Laurie from New Zealand, Jeff from the US and Alex from Germany who is living in Singapur. That´s what destination angling is about, meeting interesting people from around the world!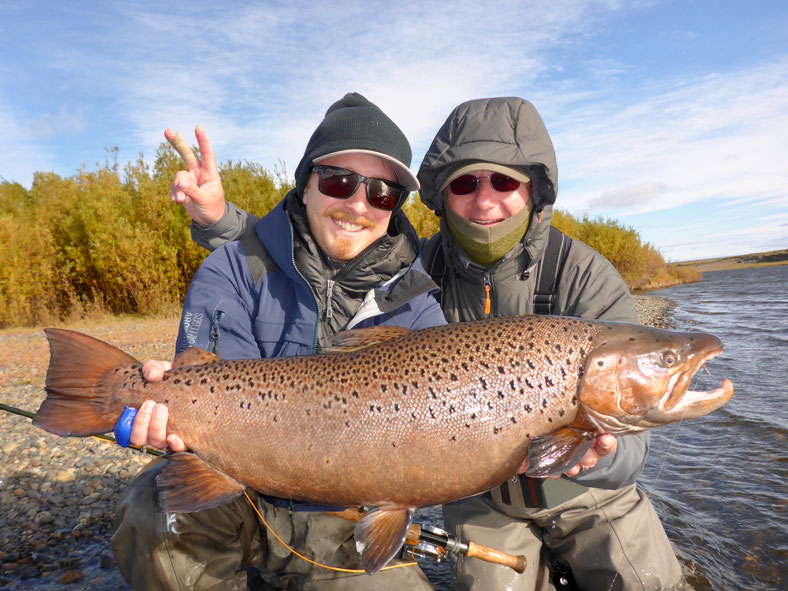 Eckhardt started his trip directly with a monster sea trout around 20 lb at Limits on the second day during an evening session fishing a small leech. What a fish! The weather remained stable with the wind picking up during the week and temperatures around 10-14 degrees. The following days produced fish for all of us, Toni could finally land his first sea trout and Sven caught some nice ones in the small to medium size range with loosing two big fish on Day 3 and 4. I was also able to land a couple of fish between 5-10 lb and got lucky to land my biggest sea trout so far with 20 lb, caught on a small prince nymph. The week ended with another highlight when Toni hooked into a beautiful fish with 13 lb in Wagon Wheel. This again showed that hard work often pays off in the end.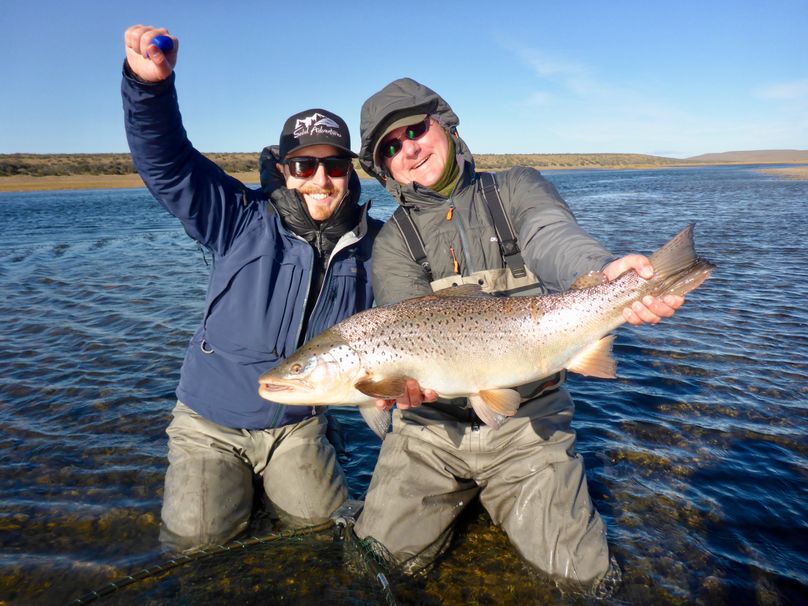 On Saturday we had to say goodbye to Eckhardt and Toni who made their way back home. Alex, Sven, Tim, Jason and myself were picked up by Claudio and Pollo for the last part of our trip. Buitreras again offered us an unforgettable experience with great service at the lodge and beautiful sea trouts in the books for us. It is highly addictive!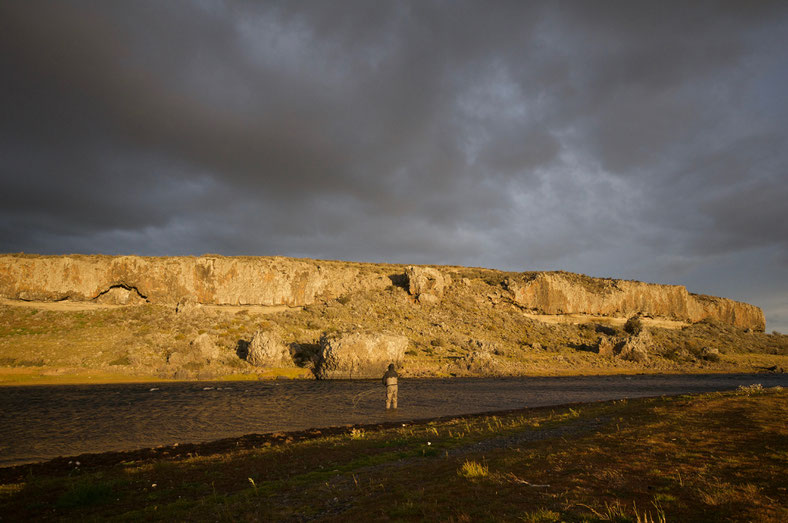 The drive from Buitreras to Los Plateados Lodge at the Santa Cruz river takes about 3 1/2 hours with a short stopover before hitting a gravel road along the river. The lodge is based directly on the riverbank and is in comparison to Buitreras a more cabin style lodge with a house that includes 2 rooms for up to five guests, a bathroom with warm water as well as a living and dining area. This is what every hardcore flyfisher is dreaming of, a little oasis in the middle of nowhere! You see that Claudio, Pollo, Juan and especially the owner Leandro really worked hard to enable a solid operation for guests from all over the world. We had some Burritos for lunch while Claudio was giving us an overview about the lodge and the fishing. Skagit lines, 12-15ft T11-T14 sink tips, 12-15 lb leader and 7-8 wt. spey rods were the way to go. Intruders in all colors worked, we caught with pink, orange, blue/black and purple/pink.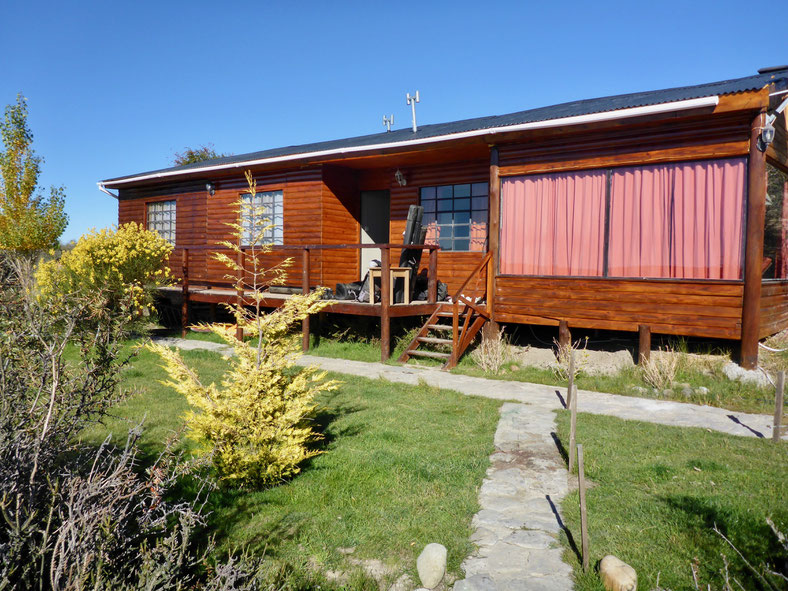 We went fishing for some hours in the afternoon taking the trucks to the respective spots. During the days Diego was with us for shooting a new video of this destination. First spot, a couple of casts and Sven directly hooked into a big steelhead. After 3-4 jumps he managed to land the fish carefully and a couple of photos later a 13 lb buck could be released! Not a bad start at all, I was completely flashed by the scenery and light of this place and sometimes even forgot to concentrate on my swing. At the lodge we heard that Tim also landed his first Santa Cruz Steelhead, again nice fish in the range of 12-13 lb. This was of course celebrated in the evening with some vino and Argentinian steak.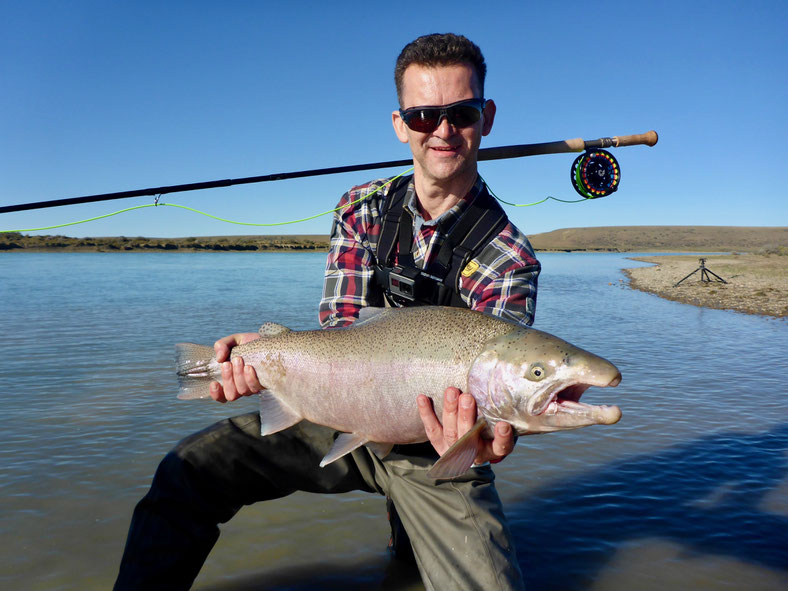 During the next two days we went to the spots by boat to cover a bigger fishing area. Here you fish most of the time classic steelhead runs with medium fast flowing water rather than faster riffles that you also know from fishing on bigger rivers in BC. The river was lower than last year so runs also changed and required to fish the deep channels precisely. For lunch both groups met again on the river where the guides built a little shelter with an old oven. Claudio, Pollo and Leandro cooked some exceptional food including pizza - life is good!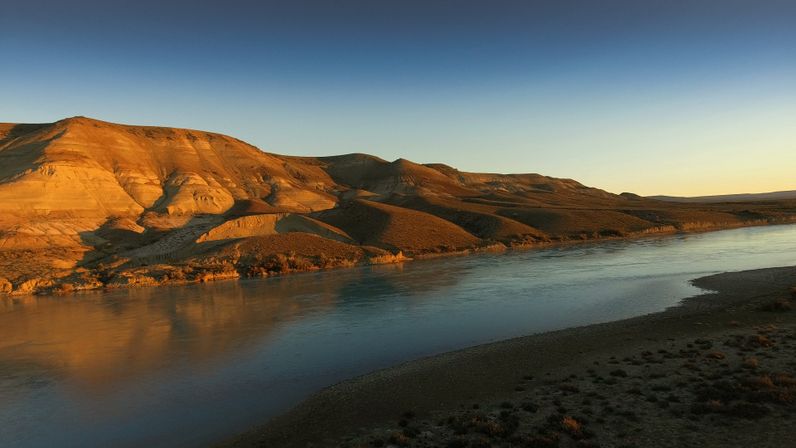 The fishing itself was good, Alex landed a beauty on the second day during the last daylight. The fish took far out on the beginning of the swing and made a nice first run after being hooked. With some purple/orange sunset in the back Alex was holding a chrome steelhead of around 12 lb which ensured some great pictures and memories. I landed a small steelhead a few hours before and was unlucky on the day after when loosing a big buck just before landing it. On the last day we started early to fish a few hours in the morning before hitting the road again to Rio Gallegos. No luck for our group with Sven, Alex and me but Jason was finally rewarded with two Steelheads!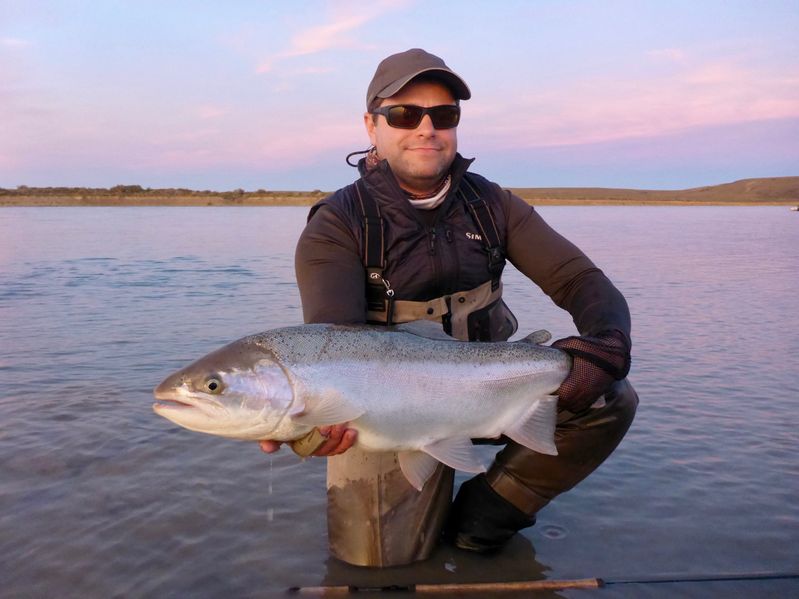 This program is amazing! All of us could land steelheads during 3 days of fishing and all of us hooked into some big fish. Don´t get me wrong, it is still Steelhead fishing and still the fish of a thousand casts but this place offers you a very good chance to catch one or a couple of steelheads per day. The scenery is stunning and  you have the river for yourself (who can say that when fishing for steelhead) which always ensures rested spots. The combination with Buitreras works perfectly and offers clients the chance to experience two completely different fisheries during one trip. We had a great time and will be back! (Photos: Diego Eiguchi, Carlos Nieto, Felix Hansvencl)
Thanks to: Solid Adventures, Tres Amigos Outfitters and Angelbär
Felix Hansvencl
Photos Las Buitreras (by Carlos Nieto, Tomas Biott, Sven Raband-Dula, Felix Hansvencl):
Photos Santa Cruz (by Claudio Martin, Diego Eiguchi, Felix Hansvencl):